Customize Your Own Body By Sculpting Clothes
Everyone has a personal style based on choice and taste. And above all, taking a careful look at yourself requires more attention, even for the fact that we build our style in an authentic way and an action plan to put into practice every day in front of the mirror or even in our weekly appointments. Because that way we better define the things we like and how we want in our life.
On the other hand, if you're anything like me, the thought of wearing shapewear probably doesn't bring you much joy. Shapewear usually requires a lot of tightening, pulling, and effort, but it doesn't have to be that much. Also because, nowadays, there are several modern options on the market that customize our own body through the clothes we wear. That way, it's even easier to feel confident in your own skin.
But, above all, the secret to getting dressed is in shapewear, the one who will shape your body in a moment. Once you've achieved the perfect silhouette with cheap shapewear as a base, the rest is easy. The best shapewear is snug and tight, yet soft and so comfortable that you can wear it for hours on end without feeling pressured.
Another positive point is that shapewear is an investment because it makes any piece of clothing that looks good look great at any time of your day.
So to find the best shapewear that is also comfortable enough to wear at work or any other occasion in your day. And to make things easier, is to choose the type of clothes that you like to wear the most, be it shorts, bodysuits, tights, pants or even leggings.
See some wholesale waist trainers with logo models that can very well fulfill their role and on top of sculpt your body through the clothes you like to wear most when you want to look good with yourself.
Black 5 Plastic Bones Neoprene Waist Trainer Belt Tummy Training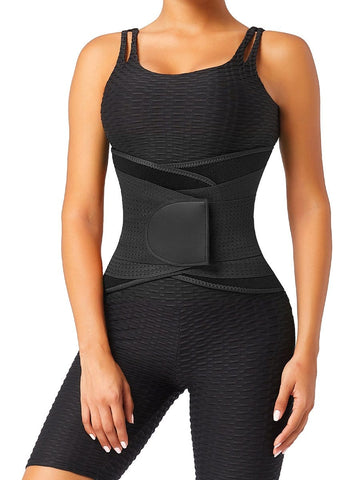 Perfect to use while exercising or even when relaxing and resting in your day. Its material is made of 3-layer composite neoprene to accelerate body fat burning. Likewise, it contains 3 pieces of high-stretch belts that are added for a targeted tummy control effect, shaping an hourglass figure.
Another positive and interesting point of the product is that it has 5 plastic bones used to protect and reshape the waist, thus providing strong support and moderate compression.
Its complete loop surface design with hooks to create an adjustable hook-and-loop closure system for flexible movement.
Elegant Black Neoprene Cami Shaper Solid Color Double Waist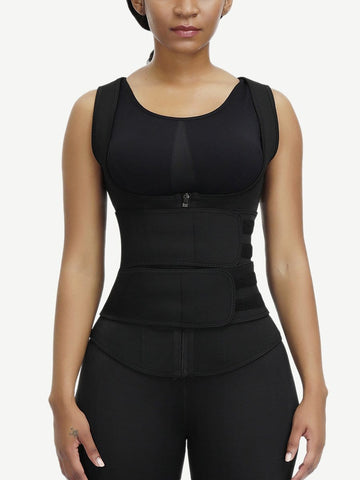 Maybe you're looking for a comfortable garment that gets your spine and back right as you go about your daily activities. This model has a powerful adhesive that adheres firmly and is not easy to tear off. In addition, it has 9 steel bones that grip your waist powerfully.
Its U-neck design supports the bust and raises your back a lot, it also has a double belt that can further increase the binding force by freely adjusting the binding part. Likewise, it has soft, elastic and neoprene fabric.
Black Waist Trainer 2-in-1 Leggings with Zipping Hourglass Figure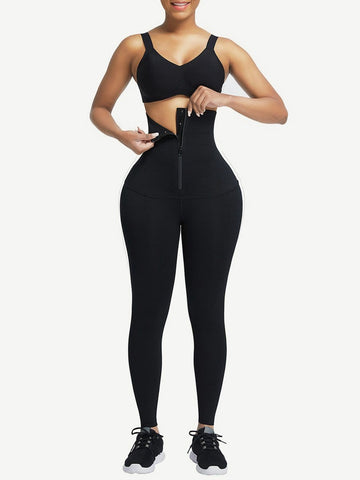 For those who can't like the 2 previous models shown in this article. This suggestion can be an alternative for those who prefer and have a more hourglass body. Because its double-layer contour panel ends up flattening the belly and shaping the waist. 
Likewise, highly elastic leggings provide targeted compression to trim the legs. In addition, it also has a non-slip strap lined around the waist to avoid rolling down, bringing safety and comfort to your body.
Your buttock areas are free from compression, avoid uni-buttocks and increase the curves of the buttocks. Its velcro closure has a zipper design making it easy to put on and take off.
Which of these shapewear would you choose to wear now?