How to Burn Fat Effectively in Summer?
When you're trying to fit into your old clothes or wanting to wear crop tops, you'd most likely want to show the best version of your body. There's absolutely nothing wrong if you're going to slim down and feel the summer season with a beautiful body.
Did you know that burning fat during summer is easier compared to other seasons? One obvious explanation is the warm weather that helps you burn the fat more. But, you can't simply rely on natural perspiration because there are many factors involved that will determine if you'll burn fats effectively. Here are tested and proven ways you can burn fat this season:
Stretch for at least 10-20 Minutes with a Full Body Trainer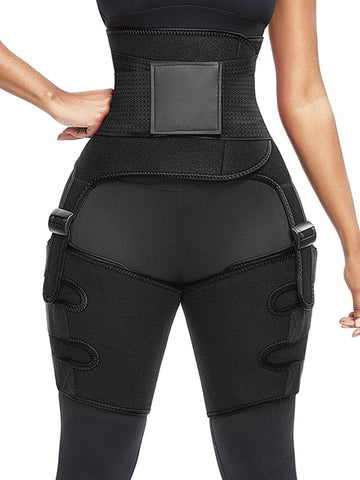 Understandably, you can be busy, especially when you're a breadwinner. You might not have time for a full workout, or you're just too tired to enjoy a good run.
Burning fat with a hectic schedule is a challenge but an obstacle you can surpass. If you're currently working from home, then taking a break from your work and doing some at-home stretches wouldn't hurt your schedule.
You can start by putting on a full-body trainer after you wake up and do at least 10-20 minutes stretches so you can fully wake your body up. Not only are you working your body, but you're also preparing it for the entire day. You can do this every day, and if you have spare time, you can do a full workout after stretching.
Fat Isn't Only in the Belly Area. Find a Neoprene Arm Shaper for Slimmer Arms.
Many people focus on the midsection area only, but all your body parts are equally crucial for losing fats.
It's also specifically applicable when you're doing jump rope exercises and jumping jacks. Though light, it adds weight to your arms and keeps them tight and compressed to help you lose arm fats.
Jogging and Brisk Walking with a Waist and Thigh Trainer Will Help You Lose More Calories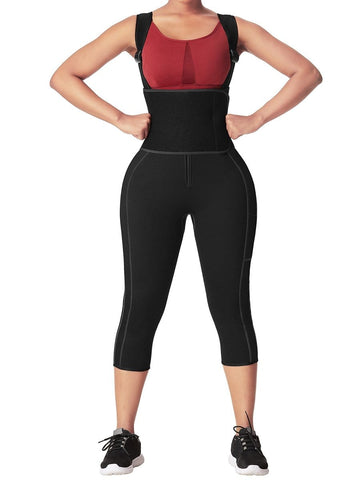 Instead of wearing your old gym shirt and a pair of baggy jogging pants, go outside and take a walk, or run a few miles with a waist and thigh trainer.
Waistdear uses neoprene material to help you burn more calories and fat. Did you know that a lot of the things around you have neoprene? It's durable to the point that it can withstand hot weather. Jogging or running with a neoprene body trainer can help regulate your temperature while making you slim more so you can further burn more calories.
Can't Achieve Firm and Slim Arms? Play Badminton with Slimming Elastic Arm Bands
Are you having trouble with achieving slim and firm arms? You can play badminton or tennis wearing these elastic bands that will not only help you burn more fat in the arms but will promote strong and muscular arms.
Leave your Old Leggings for At-Home Wear. Switch to a 2-In-1 Leggings with Tummy Slimmer
Wear 2-in-1 leggings so that you feel more inspired to walk around the house, do sip-ups or squats, and stretch from time to time. In addition, suppose you have the knowledge that you're already shedding water weight by simply wearing leggings with a waist-cinching effect. In that case, you'll be more motivated to work out often, so wear shapewear leggings more than your regular pants!

Achieve an Hourglass Figure with a Breathable Waist Cincher From a Waist Trainer Manufacturer
Wear your body trainer from waist trainer manufacturers that create high-quality but affordable waist cinchers so you can achieve an hourglass figure while wearing it.
You can't guarantee the quality of waist trainers from resellers, but with Waistdear, you know that you'll be getting top-grade body shapers.
Burning fat during summer is easier because of the hot temperature. Also, wearing a waist trainer will give you an instant hourglass figure and will aid you to shed water weight.
Aerobic Exercise is a Great Way to Lose Body Fat
Using an elliptical trainer, cycling, dancing, walking, and using a jumping rope are excellent aerobic exercises that can help you lose body fat. Don't forget to wear your Waistdear neoprene leggings to support your body during exercises.
Step It Up by Wearing a Waist Cincher Consistently
Create a waist training schedule that you can consistently follow for a slimmer waist. For example, wearing your waist trainer for at least 8 hours straight a day can provide appealing results.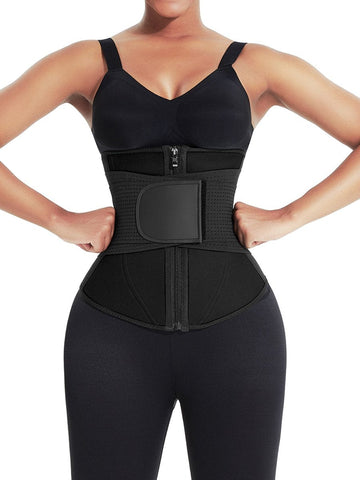 Clean the House with a Fat Burning Shapewear
Let the waist trainer make your body feel like you're doing twice the work at home while cleaning by investing in a black 6-steel fat-burning waist cincher. It'll compress your midsection and help you lose water weight.
Feel and Be Sexier by Doing Yoga with Cellulite-Reducing Neoprene Shorts
Cellulite is the lumpy or wrinkly-like skin that a lot of women have. Though typical, a lot of women want to reduce or prevent cellulite. Wearing compression garments can reduce their appearance and make your legs look toned and slim.
Cellulite is the lumpy or wrinkly-like skin that a lot of women have. Though typical, a lot of women wants to reduce or prevent cellulites. Wearing compression garments can reduce their appearance and make your legs look toned and slim.
When it comes to fitness, trying to lose weight immediately is possible but not always ideal. If you want to have a fit and sexy body for the long term, it's necessary to burn fats and build muscles through a well-guided and healthy fitness plan. Then, save money by getting a couple of pieces from by getting wholesale shapewear.
These shapewear and waist cinchers aren't your magic potion to a slimmer figure. Sure, it can immediately give your body a thinner or curvier form because of its top-grade fabric and steel bones which are perfect for a summer body, and wearing short dresses, and if you're not going to wear a bikini. But isn't it nice to be able to wear any clothes you want without thinking about your fats? Wearing shapewear and body trainers consistently can help you slowly but burn fats throughout the season if you use them appropriately.